Bleacher Chair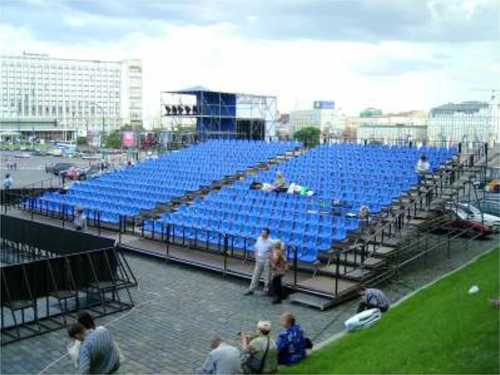 Bleacher Chair
Product Description
Bleacher Chair
are raised, tiered rows of seats found at sports field and another event. Stairways access the horizontal rows of seats, often with every other step gaining access to a rows of seats.
Seats range of simple plank seats to more elaborate seats with backrests. Many bleachers are open to the ground below so that there are only the planks to sit and walk on. Some Bleachers have vertical panels beneath the seats, either partially or completely blocking the way to the ground.
Bleacher structure vary depending on the location, but most outdoor modern bleacher have either an aluminium tube or steel angle under structure (known as frame-type bleachers) or steel I-beams (known as I-beams bleachers). Smaller bleachers are frame-type bleachers and larger bleachers are I-Beam bleachers.
Bleachers range in size from small, modular, aluminium stands that can be moved around soccer or hockey fields to large permanent structure that fiank each side of the field.
Structural Features:
The under structure is made by welded angle bar with surface hot-galvanized.
The tread is made by extruded aluminium with surface anodized.
The rise is rolled by 2.0 galvanized steel belt.
The guardrail is made by welded square bar and flat bar with surface galvanized and powder coated.
Step Width: 632mm/764mm/882mm
Riser Height: 250mm.
Product Features:
Available from 5 to 15 rows to satisfy various requirements.
Suitable in Stadium, Training, Field, Racing, Track, School etc.